Summary of 2021
Dec 30, 2021
Started jogging
In January, after a long pandemic home isolation I've started jogging. For my whole life I always hate jogging. I love most sports but running was something else. After almost a year in pandemic with gyms being closed and almost no going outside I though that I'll give it a try.
At first two tries I couldn't run 500 meters without a break for catching a breath. Unexpectedly body adaptation was very quick! After two weeks I could run over 1500m without any break. That was very motivating.
I've kept running through the whole year. I started to like jogging after the first two or three weeks of doing it, just when my endurance increased to the level when jogging wasn't dying for me.
My first MacBook Air (M1)
I've never been much of an Apple fan. At the end of 2020 Apple released the first Mac Book with their own processor - M1. Reviews were amazing. I was very interested. In March 2021 I decided to buy MacBook Air M1. Up to this point I'm very happy with this choice. Performance is great, battery life is amazing (still around 15-20h) and general build quality is beyond my expectations.
Still trying to learn Russian
For the first seven months of 2021 I continued my path in learning Russian. My main source was still Duolingo. At some point I've realized that I need face-to-face or more traditional lessons because I couldn't properly learn pronunciation based only on the app. Shortly after this realization I've changed a job and I choose to take a little break from Russian till I've got comfortable in a new job.
Surely I want to continue learning Russian but I think I'll adjust a bit my methods in 2022.
I have left PwC and joined Allegro Pay
In August 2021 I left PwC and I've joined Allegro Pay DEA team as senior data engineer. Allegro Pay is a sub company of Allegro the biggest e-commerce in Poland (and in central Europe) which is responsible for its financial products.
I run my first Runmageddon
On September, 4th I've run my first Runmageddon. Distance was 5 kilometers with over 30 challenges. It took me over two hours to finish the run.
There was many interesting challenges during the run like running through cold Baltic Sea, then crawling for 500 meters under the barbed wire and diving into the ice box.
I really liked the experience. It was an interesting training but done in very different way. I'll definitely do it again in 2022.
Pull-up bar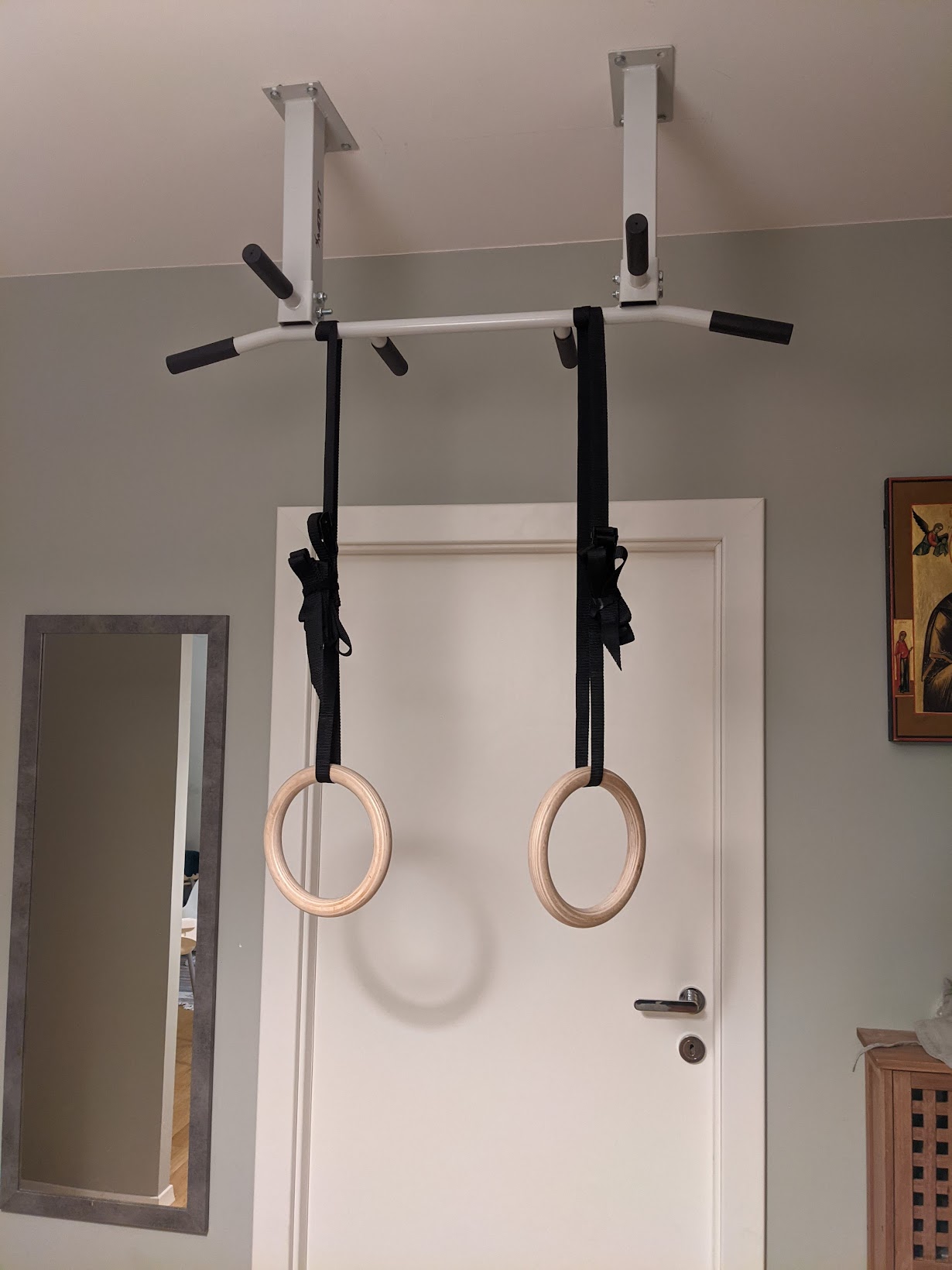 My main conclusion after Runmageddon was that I have to work on my pull ups. Indirect consequence of this was setting up a pull up bar in my hall two weeks after Runmageddon. It was my best decision made in entire 2021!
Having a pull up bar in my home enabled daily pull ups session. At the beginning I cannot do even single proper pull up (without rubber band). After two months of trainings I now can do few (2-4) series of 4-7 pull ups and chin ups with proper form.
Having a pull up bar also direct my interests in calisthenics. At this point I can do full body workout at home. I'll continue my journey with calisthenics in 2022 for sure.
Summary
The year 2021 I can sum up as me getting into shape and changing a job. I lost around 15kg (33lb). I can run over 5km. I can perform over 5 proper pull ups. In October 2022 I'll enter my thirties. I'd like to do it being fit, strong and flexible both mentally and physically.